FAQ's 
or, "Please don't bore me with the same questions over and over."
or, "You really think no one has ever asked me that before?"
or, "Ouch." (When the person you just said the last line to smacks you in the face for being sarcastic!)
What made you want to be a writer?
It's something I have done all my life. I can remember being about eight years old and spending the night at my Aunties, I took a great big red book with me and a pencil. That's all I took. I sat and wrote some story about soldiers and war. Even drew a picture at the end. No idea how many words were in that story, but I know it filled at least five sides of an A4 book.   
I never thought I had the ability to write a book, get it published etc. But in the end, you have to have that confidence. 
Where do you get your ideas and influences?
Where does anyone? I mean they come from the most random things, I saw the image of the word 'Propaganda' on TV last week, and it made me think of the East End of London, Cockneys. Split the word in two and you have one Cockney asking another to have a look at something… "Propa Ganda." This then spun on to other words, eventually leaving me with a new idea for a chapter.  You can also read more on this under About.
Where did the name Panda come from?
One of those things, I knew what I wanted to write about and the general idea but I had nothing for the characters. Where Panda actually came from I have no clue, it was just one of those moments when a word or name pops into your head. 
What is your next project?
That's easy, Book Two – Panda Johnson and the Death of the Gods. Already about a third of the way in and I so lucky this time to have an editor from the start.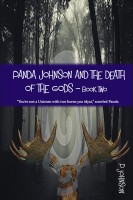 What sort of music do you like?
Music is big part of my life, it features in the books and Panda's Journal. I am an evid record collector having somewhere in the region of five hundred. When I was in my teens I was totally into Heavy Metal and Punk. Iron Maiden were my music heroes. I went through a phase of listening to Marillion as well, though once Fish left my interest waned. There is not much I don't like, though I am not a big fan of either Country or Opera and Rap does grate on my nerves at time. 
Oddly, now I am older I find that my tastes are shifting, I still love my Rock and Metal, but have found over the past few years that I have been listening more and more to the likes of First Aid Kit, Binki Shapiro, David Guetta and Andie Case. More and more I listen to modern dance music. 
Do you have a favourite character?
I would have to say Panda as the books are named after him. But I feel mean having a favourite, they may only be words and images but they have a life to me. One that I seem to control… Mwah Ha Ha Ha Ha